Does the Acela stop in New Carrollton?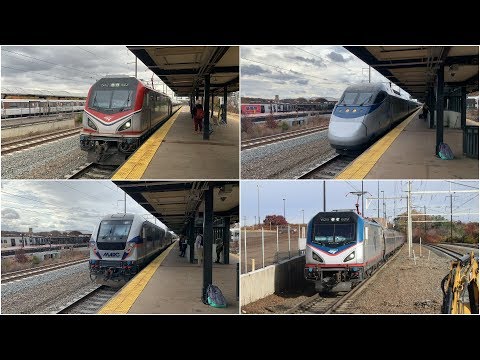 What line is New Carrollton on?
New Carrollton is a joint Washington Metro, MARC, and Amtrak station just outside the city limits of New Carrollton, Prince George's County, Maryland located at the eastern end of the Metro's Orange Line.
Is New Carrollton Metro Safe?
The community is kept clean and no litter around, it pretty safe to live in New Carrollton Maryland . I have lived in New carrollton for three years and have never had an incident where I haved to call the police or any issue with neigbors. It is very safe!
How much is parking at New Carrollton Amtrak station?
Daily Parking Rates: 1 - 2 hours: $2. 2 - 8 hours: $4. 8 - 14 hours: $5.
Can I park overnight at New Carrollton Amtrak station?
Officially, the New Carrollton Metro station does not allow overnight parking, and you are at risk of being ticketed or towed if you leave your car overnight there Friday and/or Saturday.
Where does Amtrak Acela go?
The Acela (/əˈsɛlə/ ə-SEL-ə; originally the Acela Express until September 2019) is Amtrak's flagship high-speed service along the Northeast Corridor (NEC) in the Northeastern United States between Washington, D.C. and Boston via 16 intermediate stops, including Baltimore, Philadelphia, New York City, and Providence.
Does New Carrollton station have parking?
Parking: Daily: M-F $4.95 all day. ($8.95 all day for non-riders)
How long is the metro ride from Vienna to DC?
Metro Washington DC operates a vehicle from VIENNA station to L'ENFANT PLAZA station every 15 minutes. Tickets cost $1 - $5 and the journey takes 37 min.
Does New Carrollton have free parking?
Parking is free at Metro-operated lots on weekends and federal holidays, except during special events. Most weekends, it's easy to find a space at Metro parking lots. Fares are collected upon exit during the following hours: Monday-Thursday 7:30 a.m. - 12:30 a.m.
Does College Park have a Metro station?
College Park–University of Maryland is a Washington Metro station in Prince George's County, Maryland on the Green Line and Yellow Line. It also serves MARC's Camden Line, though only select trains stop at the station.